I signed up for the Wyrd Iron Painter competition. It's rough – 5 rounds, each round there is a random theme you have to model to. You are randomly matched against another contestant, and you have to beat them in a score out of 20. 5 points for Theme, 5 points for Technical Skill, 10 points for Aesthetic.
Here's my entry (click to open in bigger view)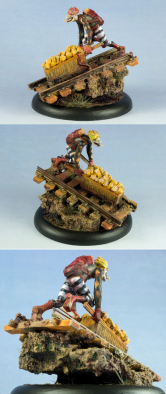 Here is my opponent's entry. The Theme was Fools Gold.
Each round is 2 weeks, and this round ended April 19th at midnight. It started on April 3rd. I had 1 day before I left (mercifully, my fiance was out wedding dress shopping for half the day…) and a day and a half of sick and jetlag to do this.
I'm pretty damn pleased with myself, given those constraints! I did have a number of potential models out and available, and I lucked into the fact that I was planning to do Willie soon, so I had a decent idea of how I wanted to do his base, and that he worked well with the theme.
The sickness and jetlag has taken all of my ability to remember more than 30 seconds ago, so I'm really having a hard time recalling what colours I used. I know I used Tallarn Sand for the first layer of his skin, to see how it went, but there's very little actual skin tone remaining.
Things I'm not happy with:
Using pure white was a miserable idea. It doesn't get shaded easily, it just gets dirty looking. So his pants are off-and-on in places.
The shirt I was trying to make look like a black checkered mesh over skin, but the skin is dirty and messy as well.
Things I'm pretty damn happy with:
The layered base.
First use of Army Painter tufts. Super easy, and awesome.
The gold. I really wish I could remember if it was Vomit Brown base or Sunburst Yellow base. But it was easy after that – I used Dementor Yellow to make the yellow more yellow, then a very light drybrush of white on the top of it for some shine. Seraphim Sepia is lightly placed into some of the crevasses to separate the dynamite out from each other piece.
The blending on the wheelbarrow edges.
It'll be a miracle if I make it to round 2, but at least I'll have most of the entire 2 weeks to work on the piece! Results for round 1 are said to be available April 23rd, round 2 starts April 24th.