I haven't written about the drone recently, but that doesn't mean we haven't been flying. I've been learning how to fly "line of sight" all summer, and it's fun but it's very difficult. You have to get it in your head that if your front lights are facing you, that your controls are entirely reversed. That could be possible, but what hasn't been possible is all of the combinations in between!
Russ picked up some FPV goggles and I gave them a whirl and was instantly sold that this was the thing to do.
First, a cat in a box.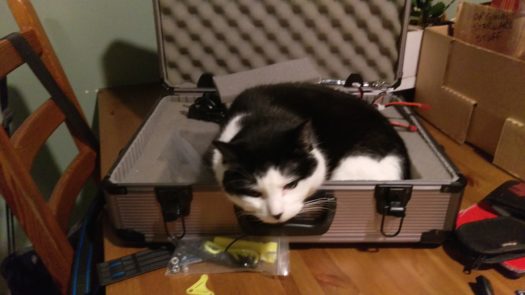 As with all drone things, we had to pull it all apart again. Added to the list of gubbins that had been in there before was a PWM->PPM converter (I don't truly understand why), a camera and a video transmitter. The last two allow the drone to transmit video signals, to be picked up by my goggles.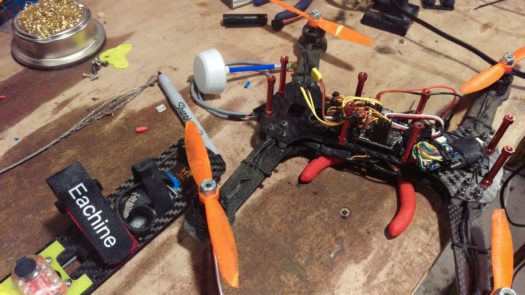 A photo of the whole mess put together. We didn't get to fly that day because it took too long to assemble. Thankfully, assembly is fun too!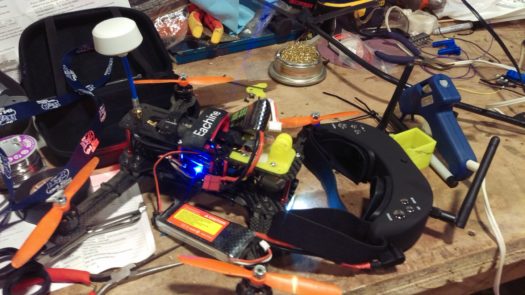 The goggles.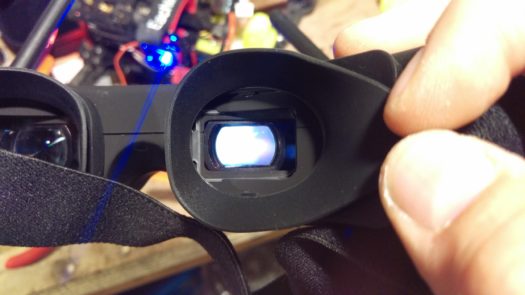 A photo of the goggle screen displaying something from the camera.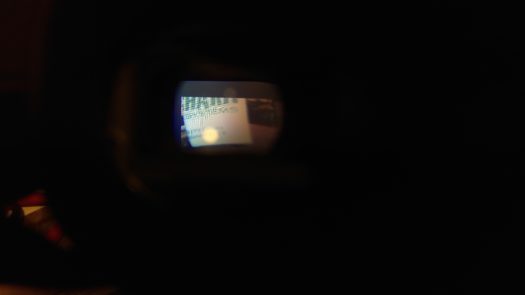 A couple days later we went to a nearby Burnaby park and flew around a bit. Here's a side photo of my drone. The yellow thing on the left (at the bottom) is a camera mount that Russ 3D printed for me. It allows me to change the angle of my camera (and also holds the camera in the frame).
The yellow thing at the top is my GoPro mount, which is likely not going to see too much use. My new FPV camera can take SD cards to record to, so I'll likely do that. Not to mention I busted the GoPro and the GoPro mount. >.>
On the far left in blue is my video transmitter antenna. I now know more about antennas than I ever thought I would. 5.8ghz, circularly polarized cloverleaf antenna with a simple plastic cover to prevent it from getting mangled from the (repeated) falls.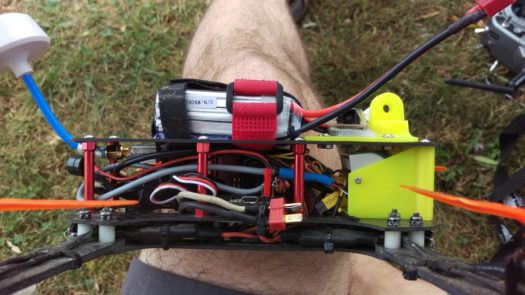 This is a photo of Russ' drone in a tree. 😀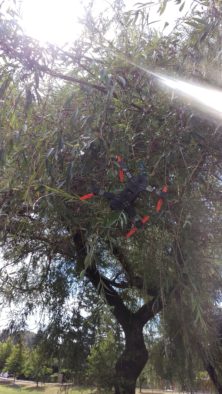 This hobby just got so much more amazing. It has all of the fun of playing a cool little video game/flight simulator, but with the immediacy of real life. To nerd out a little, it's like the difference between Diablo and Diablo on Hardcore mode. The latter makes you really sit up and pay attention, and flying this thing is very much the same!
I'll try to get some video recording, but unfortunately I left all my SD cards at home for the flying this time. But there will be more!