I got married yesterday!
No photos of that here, because that's someone else's hobby, not mine (Miranda hobbied the shit out of this wedding), but I took this photo a couple days ago of the two rings in a ring box. Obviously the one on the left is the two rings that I made for Miranda. The one on the left is one that Russ and Shane have been working hard on making for me!!
It's a Mokume-gane style ring, where the smith repeatedly heats and smashes different types of metals together (in this case, stirling silver and nickel silver) until they are bonded together. It's used to create almost a wood-grain effect.
They also included, at my request, a band of red that visually links it to Miranda's ring.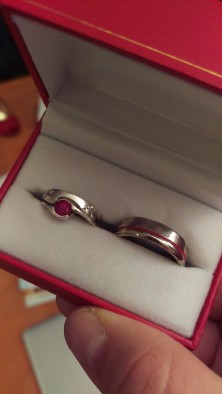 This thing is absolutely incredible!