Just a quick couple colours after yesterday. I did two layers of white, which were both mixed with more water than I had mixed with the Ulthuan earlier in these guys.
I tried to paint "gems" (lenses) for the first time…I'm going with ever. I didn't do a very good job of them, but some 'ardcoat fixed a bunch of problems. 😛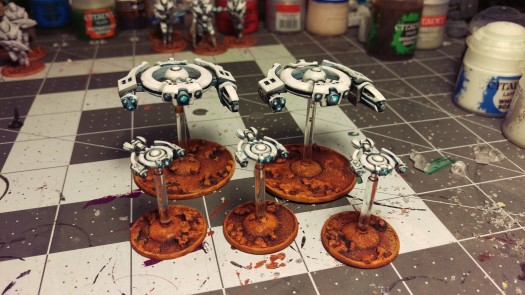 There are two big visual differences between these guys and the test squad.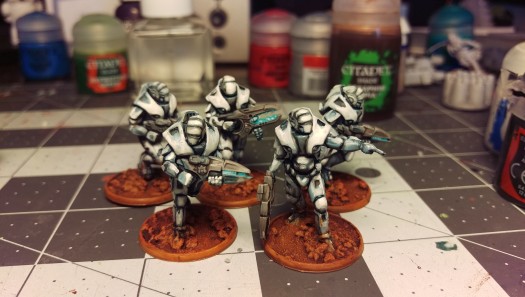 First, the drones look cleaner to my eyes. The whites look cleaner, which can be attributed to having gone less dark in the initial wash. I think for the next squad of 5, I'll definitely do a coat of Ulthuan, then wash the recesses only with blue, then Ulthuan to clean up, then some spot black in the recesses, then Ulthuan to clean up, then white (and as many whites as necessary). I think it'll be easier (although it reads more difficult!) and cleaner.
Second, and this is super weird, but the bases are totally different. I used a Vallejo Surface Primer to prime the drone bases because I didn't want to spray the flying stands, but used GW white primer (which is excellent, by the way) on the models and the squad. The drone bases almost look fluorescent!  They've got this odd bright glow to them that isn't there on the squad bases. I don't think it'll be noticeable unless you're really picky (or you watched the process of trying to dull them…like I did) but it was weird to see the difference between the two "whites".