Dreadball has a team of teleporting turtles. But the entire team is male, and they keep their females secret…until now.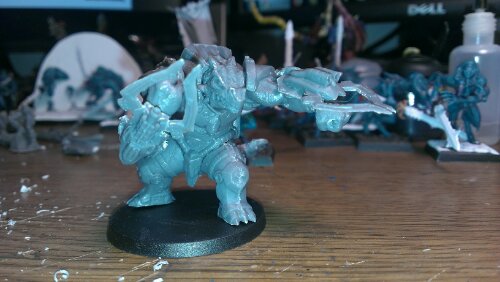 I should have put a reference model next to Bertha, but she's a head taller than a ymargletter, and twice as wide. (Only don't talk about her size). It's late, and I need to be asleep right now, but I had to assemble something from my giant box of Deadzone models before I was satisfied.
I spent this evening desperately trying to clip 50 sprues of Deadzone terrain so that it would all pack nicer and not give my girlfriend a little freakout when she gets home from her event this week. I watched Voyager, for gods sake, and they made peace with the main horrible enemy of the show! I think I'll succeed…it all packs down into the original game box.
Question for my diligent readers: How should I do my rebels bases? I still have a bunch of that metal sheeting I was using for my Dark Eldar, but I haven't settled on anything yet. What do you think I should do?