FoodBowl 2017! This is a great event for a great cause! 4 player Blood Bowl, 1,250 gold teams and it brings together the two disparate groups of Blood Bowl players in the Vancouver area, so we get to meet some new people. 🙂 Obviously, I brought Skaven which I thought were a good top pick — they have some great speed (since the current event rules nerf elves a bit, possibly the best speed) and great bashiness with the star players.
I sat down at a table with a gentleman I didn't know, named Kristian, and then two others I did know followed suit – James and Pat. James has a hate on for me after he mercilessly killed my rat ogre in a previous season. You read that right, I don't understand it either. 😛 Pat is good fellow to sit next to.
This game was characterized by Kristian scoring TD after TD with Skitter-skitter Stab-stab, a special character gutter runner. He scored 3 TDs, which is absolutely ridiculous in a game with 28 players and 3 other people dedicated to ensuring you don't get to do what you want to do.
Near the end of the game, Pat had a choice between stopping me scoring or stopping Kristian scoring, and he chose to stop K because he knew that K would be vying for a top-TDs-scored prize with a start like his. Because of this I managed to get a TD, bringing me second place in this game! And then because of the final score calculation, I got 10 points (7 for second, 3 for 3 casualties) where Kristian also got 10 (10 for first). 🙂 This was a nice game. 🙂
We went for sushi after. Our game was about an hour over time, and sushi didn't help.
Here are some photos.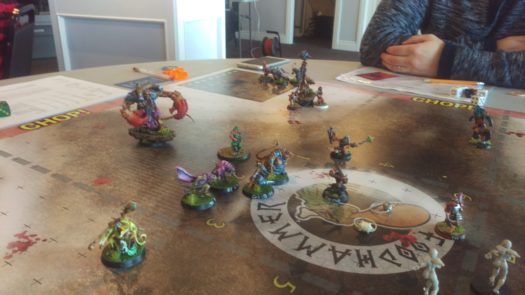 Go forward my ratties!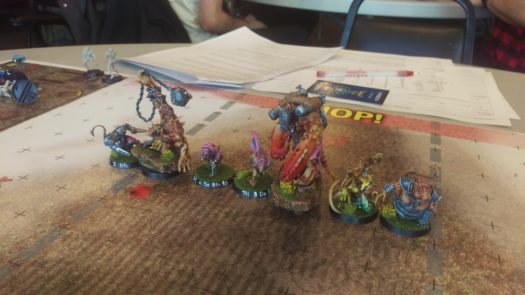 Lined up again after a TD by SS-SS.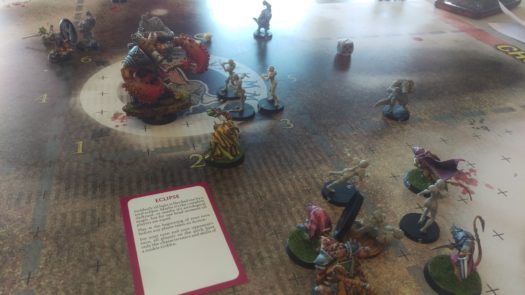 ECLIPSE!!! There was also a goblin fanatic on the table at this point which had been placed in James' lines. James had maneuvered it away from him, but the fantatic got turned into a goblin as well, allowing the next person to simply move it 6 easy squares back to killing James.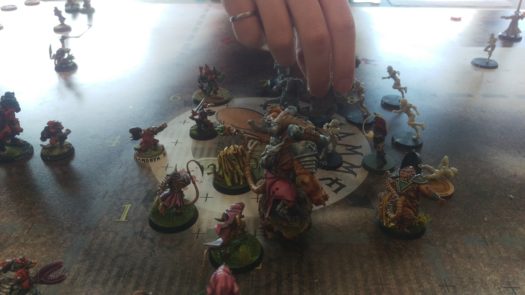 I don't know what's going on this photo, but I like showing how crazy the center of the board gets in this game.
Game 2 I sat down at a table next to Rowland, Greg and Pat, all players I play regularly. In hindsight I should have sought out one of the 4 players I never played, but we were rushing a lot after sushi so it wasn't a great moment of decision making. I also took fewer photos this game.
This was almost a no-score game. There was a sprinkler, making pick-up and throwing and catching harder. The ball was spiked, making pick-up dangerous. There was also a ball clone, meaning there were 3 balls on the table at one point. My valient gutter runner grabbed the ball, dodged tackle zones across the board…only to find he was holding the clone. It was here as well that Greg rolled quad-skulls, which is always something you can count on winning with.
My two ball and chain characters moved up and deftly avoided hitting an enemy who had set up in a perfect cage, and then one ball/chain hit the other. >.>
I spent most of the first half with only 3 players on the pitch, so it was a little boring, but I made do. When the half finally came around I tossed on another 4 and got to play again! I grabbed the ball again, ran it across the field and avoided getting hit a bunch…and found he was holding the wrong ball.
My injury pile.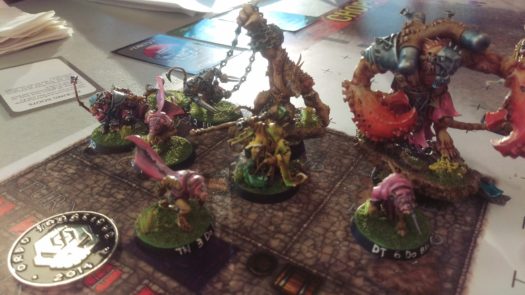 Moments after the first photo was taken, another model got added to the pile.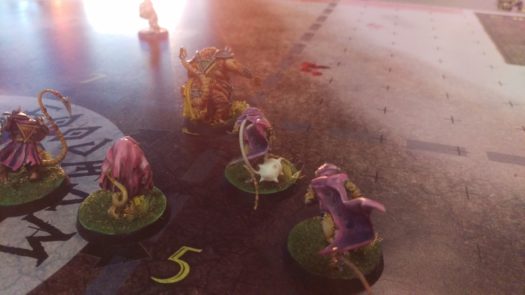 Gutter runner cage!
I'd like to say that this story ended with me scoring and winning the game, fans cheering for the Cheddar City Alchemists in their brilliant pink uniforms. Alas, I did not. My ball was across the field. Instead, Rowland dropped a bomb on his ball, knocking it loose and allowing Pat to pick it up and score with it. >.<
I hope I can make time to play this event again next year, because it's just amazing!