It got weird.
I'm playing in FoodBowl this weekend. It was a great event last year, with some great custom made boards and some fun rules for charity. This year the organizer got rid of the "only 2 Stars" rules, so the field was open for craziness. You've already seen my Fezglitch and my Kreek. I ordered Glart at the end of September, knowing he'd be here before the event on November 5th.
On October 27th, a mere 8 days before the event, I gave up hope that Glart would arrive before FoodBowl and started a Stormfiend conversion. I didn't even have an idea of what rules to use with it, I just knew that if I had a Stormfiend, I'd have something. I quickly secured a model and scrounged my bitz box for something to use as hands, because I didn't want to use the Stormfiend guns and it had to be a conversion, otherwise it was just a Stormfiend on a tiny little base.
Enter: ancient Old One Eye claws.
When I worked at Park Royal GW I got part of a Tyranid army and I think it included an Old One Eye. I didn't want to do the special character, so I put scything talons on the model and bitzed the claws. Here we are, like 15 years later and the claws are getting used. This is why we hoard bitz! And my wife keeps calling me a hoarder…
My team has a little bit of size creep…my three rat ogre models.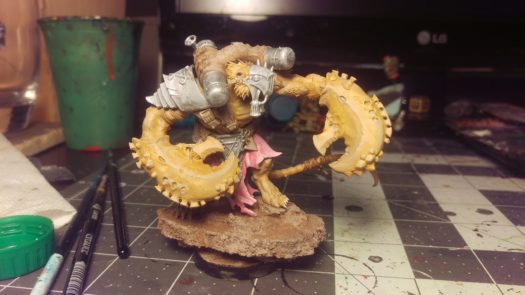 I took a bunch of photos, because I was thinking about it. First off, the shaded basecoat. It's a pretty standard recipe for me at this point — Zamesi Desert mixed up with Dheneb Stone, Runefang Steel, Emperors Children mixed up with White, Steel Legion mixed up with Dheneb Stone. This is a super fast 3 layers, all that's important is to stay within the lines and get a quick highlight up. If If go outside the lines in a big way, it's hard to fix with just washes/glazes, but some messiness can be fixed.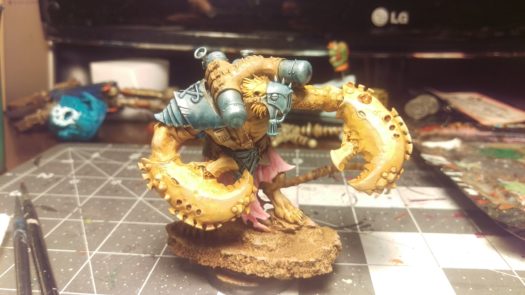 The next layer is also pretty quick. Sepia in most of the recesses of the skin and claws, and the "leather" items. Drakenhof Blue shade over the metal.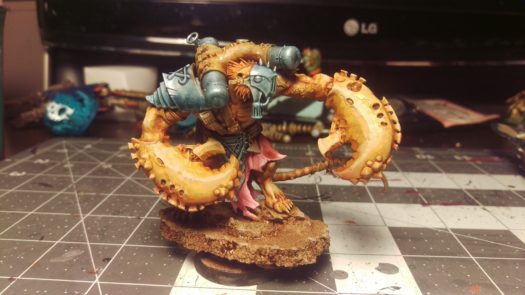 Some changes of lighting can be attributed to a different time of day I was taking the photo, but I think this layer included Nuln Oil over the metal to darken it down in places. I mixed red glaze and blue wash to make a purple and painted that onto the lower sections of all of the skin tones, and under things. I like the purple as an "under" shadow colour.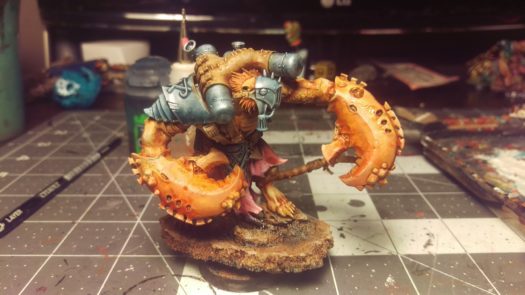 This is the start of the glazing of the claws. They are going red, and you can see the start of that here! I also did another layer of the purple over the skin to darken that more. The purple wash went over the pink cloth as well.
Two more layers of red over the claws.
He's pretty close to done at this point (November 3rd) which is great so I can have another model to play with in the tournament.
And then Glart shows up in the mail. 2 days before the event. >.>
You'll see photos of him here shortly, because I am absolutely going to paint him before Sunday!!