Again, with Foodbowl coming up, I need more Skaven Star Players. I set out to find a conversion for Kreek, the Verminator. There are an awful lot of Rat Ogre models in the world, and 90% of them are not my cup of tea. Most of them look like they were sculpted in the 80s, which is not an aesthetic I like.
The good ones are: the 2 Island of Blood models, the Screaming Bell model, and the Stormfiend models. I'm already using one of the IoB models, the one that would be most appropriate for Kreek since his concept art in the book looks a little cybernetic. I didn't want to use the other IoB ogre, just because I'm stubborn that way. I set out to find either the Bell ogre or 1 Stormfiend, because I didn't want to buy a $80 box just for this model. A friend ended up selling me the Bell ogre, which is great because it's a great model, but part of me think the Stormfiend would have been a better conversion (despite initially thinking the Bell ogre was better).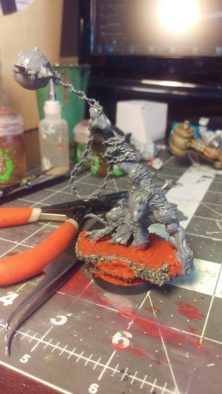 I turned his head forward so he's looking at his target, and put a ball on the end of the chain, and put the cork into his hand where the full model is gripping the Screaming Bell cart. This rat ogre has a Ball and Chain on the field, so he's going to join my power lineup to beat the crap out of my opponents in Foodbowl!