One of the goals of this blog was to help me keep track of how I painted my models over the years. I'm no good at colour matching the way Wappel does, and I do rely on a recipe even if it's a little haphazard sometimes. I went back a long ways through my ork entries to find that I hadn't logged how I painted orks, just orks. I remember it was something wacky and crazy like a dark green highlighted up with a brown to make them more foresty and less bright green.
At the same time, even if I had found it, my technique has changed wildly over the years and I'm not sure it's a good idea to go back.
So I present to you, my "first time painting orks". 😛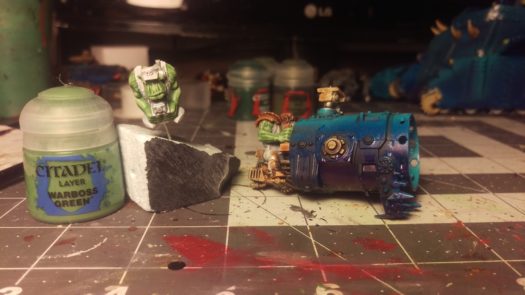 GW Warboss Green highlighted up with a shitty drying Ushapti Bone. The nice thing about the semi-solid Ushapti is that I put a brick into the green, and then broke down a little more of the brick for each layer.
This is the shaded basecoat step, as I've been doing.
I've been putting off starting these two because I've been waiting for Glart to come in the mail and I didn't want to start something and not finish it. Glart had been get his act in gear because I need him in 15 days and I want him painted! By the numbers, he should have been here sometime last week. This week he'd better be here!