Super happy with these! I wrote about the carriages and grots previously, so just the guns here.
I started with Vallejo Fluorescent Yellow inside the recesses where I wanted the energy coming from. My goal was to keep these areas yellow through the whole process. It mostly worked, except for the round balls on the right and the tips, which I had to go over a lot again at the end.
Mithril Silver pretty much all over, leaving the cables and that center red housing. Silver everywhere is boring, but after a sloppy application of SW Amethyst and GW Seraphim Sepia to make some colour and distressing, the silver is pretty awesome!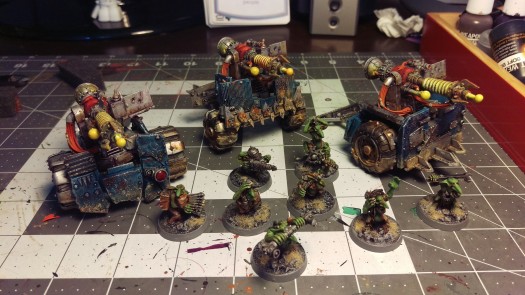 I had to go back with the Vallejo Yellow a fair amount. I did White in the recesses, then Yellow, then drybrushed the Yellow out of the recesses, then mixed the White with the Yellow to go in again. I don't feel like I got that "pulsing glow" look, but it's pretty bright looking. Not certain what else to do to get the glowing look, but I think it has to do with a smaller paintbrush and painting more gradients inside the coil area.
Everything else was pretty easy. SW Soft Body Black to get the really deep recesses. Mephiston Red in the center — I didn't even do anything else here, just the slop-over from the Amethyst and Sepia made it look good. Blazing Orange+Sepia on the cables, Steel Legion Drab+Sepia+Ushapti Bone on the cable wraps.
Oh, and Blood for the Blood God on the sights. It's an easy "glassy lens" look. 🙂