A lot went into this unit.
I haven't painted a whole new unit in ages, and now I remember why. I always start with the idea that it will be perfect, that I'll paint everything perfectly. As I start, I get bored…painting 16+unit filler of the same model over and over again is boring. I'm glad that I'm done with the infantry for my daemons now!
I'm also glad that they turned out at all good. These models were second hand, with primer and a base coat on them already when I bought them. They fell apart if I looked at them funny. It's a miracle that they're done!
Their Backs
The backs were slightly painful – they have a lot of little dots on their back. I did a messy wet brush of Ushapti Bone onto those dots. Then Lamenters Yellow over it, leaving it pretty yellow with yellow tint to the green skin surrounding. Then I did a drybrush of Ushapti again. Lastly, I mixed 2:1 Water and Secret Weapon Soft Body Black.
It's not perfect, but it's good enough.
Swords
I was trying to figure out how to do a glowing white sword. I thought I might do a pink/purple force weapon look similar to my Old Blood. Then I realized that this was not going to get finished…it took an evening to do a single sword, I wasn't going to do 18 of them.
So I came up with a different scheme that I think looks pretty damn good. I did watered down Camo Green over the white primer. This dried with darker bits in the middle and lighter at the edges, which is a good start.
I painted edge highlights of Rotting Flesh, and did a light feathering of the same colour on the flat of the blade.
Lastly, Skull White on the tips of the spikes and tip of the sword.
The Photos, Already.
Here's the unit, in all of it's green glory.
Oh yeah, I painted the portal too. 😛 I'll have a post devoted to that upcoming in a couple days.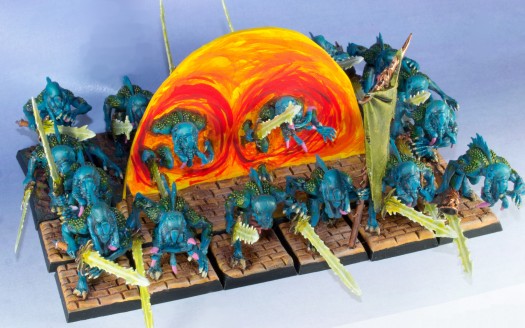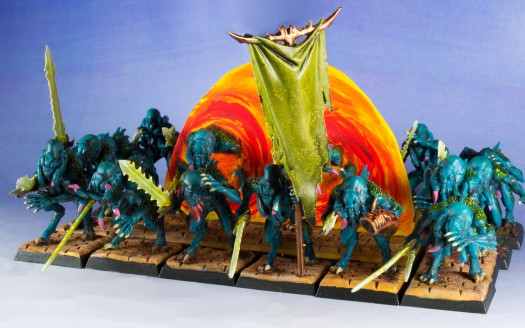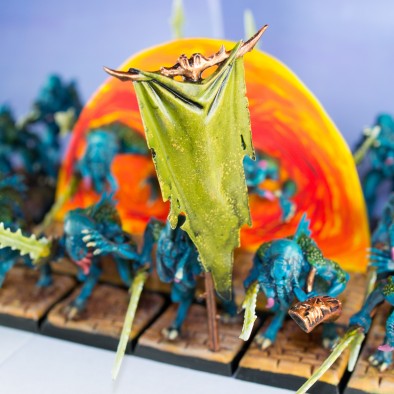 I thought of doing a fancy design on the banner, but in the end the simplicity of this weathered green really appealed to me. Camo Green, Soft Body Black and then I stipled Zamesi Desert with a piece of sponge. I think it looks fantastic.
What's Next?
On the road to Adepticon, I still have to paint:
2-4 Beasts of Nurgle. 2 of them have a base coat and nothing else.
Skull Cannon. Patrick made me a fantastic conversion for this!
Deadzone strike force. Playing in the Deadzone "big game".
Some reinforcements for my Dreadball rats. Playing in the "league in a night", so I have to figure out what that means.
Ever more Malifaux. I have a handful of toolbox models I want to add to my crew for the 2-day Malifaux tournament! December Acolyte, The Firestarter, maybe some of the Kaeris crew. Taelor…Oiran…Johan…